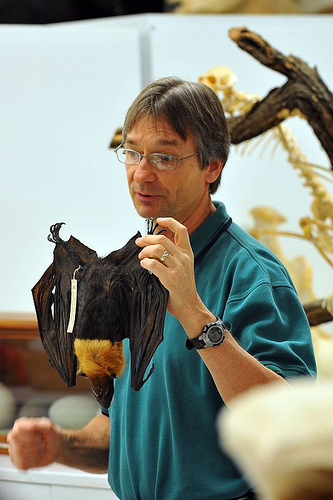 The Joseph Grinnell Award honors individuals who have made outstanding and sustained contributions to education in mammalogy over a period of at least 10 years.  The award recognizes excellence in education in the broadest sense.
The 2015 recipient of the Joseph Grinnell Award is Dr. Robert C. Dowler, Professor of Biological Sciences at Angelo State University. Bob has been major advisor to 35 graduate students and with these students has published over 60 papers on the ecology, behavior, and distribution of a variety of mammalian species.  Bob is heavily engaged in undergraduate education, teaching courses including mammalogy, evolution, and conservation biology as well as international courses in ecotourism and biodiversity, and the history and function of natural history museums.  His commitment to education finds no boundary at the classroom door.  He coordinates local "Science Days" and "bioblitzes" that bring elementary school children to the Angelo State Natural History collections where they come face to face with mammal specimens and learn the role of museum collections in science. Undergraduate and graduate students alike have benefitted from his mentorship and note his ability to motivate students to completely exhaust their potential in both classroom and research settings.
In recognition of his outstanding and sustained contributions to education and mentoring of students at all levels, we award the 2015 Joseph Grinnell Award to Dr. Robert C. Dowler.
Photo courtesy Angelo State University.