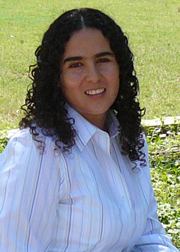 The Albert R. and Alma Shadle Fellowship is awarded to a graduate student in recognition of current accomplishments in Mammalogy and future potential.  This year the award is $4,237.  In addition, the Shadle Fellow receives a set of ASM Special Publications and other literature valuing approximately $2000.  This year's recipient of the Albert R. and Alma Shadle award is Nicté Ordóñez-Garza from Texas Tech University.
Ms. Ordóñez has been a member of The American Society of Mammalogists for 10 years.  She has published 22 manuscripts in books and journals including three in the Journal of Mammalogy and one Mammalian Species account.  Ms. Ordonez has presented her research results at ASM meetings three times and has garnered research funds, travel awards and fellowships to the sum of $126,000 from agencies such as the Fulbright Foundation and ASM's Grants-in-Aid of Research program.  Ms. Ordóñez has served on multiple ASM committees including the Conservation Awards Committee, International Relations Committee and the Systematic Collections Committee. Also of note is that our recipient was president of the Guatemalan Society of Mammalogists from 2010 to 2011and has been instrumental in terms of editing Spanish abstracts for the Journal of Mammalogy for a number of years.
Ms. Ordóñez has been described as "truly an outstanding individual and is developing into one of the best students I have had."  Her abilities in the field have been described as "far above average compared to many professional biologists."  Finally, she has been described as "a remarkable young scientist with a set goal to return to Latin America and develop a mammalogy program that will nurture future generations of scientists in Latin America."
Ms. Ordóñez's research focuses on using phylogeographic approaches to better understand the role of history in determining the mechanisms that structure biodiversity in Mesoamerica.